Many thanks to everyone who has contributed to such a fine season. To see that number of people in the audience for the final concert of the season was remarkable. There are too many to thank individually but of course Richard Howarth (conductor) and Lily Whitehurst (violin) deserve individual praise! As does Louie McIver, whose composition "Arenig" we were lucky enough to give the world premiere of. Thanks to those also in the orchestra who are leaving us to continue studies elsewhere, one of whom, Bedwyn Phillips, is the new winner of the orchestra's Young Musician award.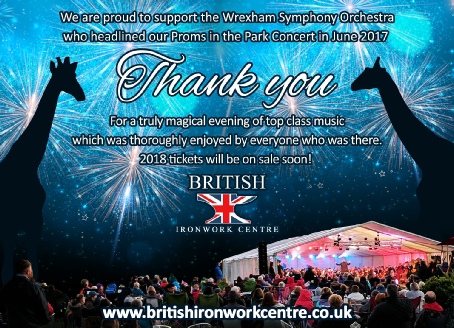 Thank you very much for your support recently in a truly unforgettable evening at the British Ironwork Centre where we performed "Proms in the Park", and we hope you enjoyed the event as much as we all did on stage. After a day full of rain we were thrilled to see so many people still turn out, and we were all rewarded by the sun coming out during the first number! Many thanks to the British Ironwork Centre from all at Wrexham Symphony Orchestra for bringing this project to fruition. As you can see from the picture opposite, they were equally thrilled and thankful. You can see an album of photos from the night here.
The orchestra is now on its summer break, but the committee is still busy finalising arrangements for the 2017-18 season, which already looks at least as exciting as the season just finished. You will be able to find details on our Concerts page here as soon as they are released, along with what will eventually become a comprehensive list of previous concerts.
If you would like to donate towards the work the orchestra does or support it in any way please use the PayPal button below. A big thanks to those of you who have already done so.
Due to circumstances beyond our control, and in seeking to be able to put on the best possible performance in a once in a lifetime opportunity, it has been decided to postpone our Bridgewater Hall performance of Mahler's Eighth Symphony until May 2020. In its place, we will be performing his Earth-shattering Ninth symphony instead, at the William Aston Hall, on May 19th 2018. Our Mahler concert series has been generously sponsored by Betrinac, with all profit from these concerts going to dementia charities. The amount raised so far is well into five figures, and most recently a cheque for £3,000 was donated to the Wrexham and Flintshire Memory Services at Wrexham Maelor Hospital.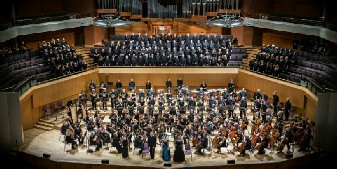 This resulted in the Orchestra being shortlisted for an Arts & Business Cymru Award in 2016. You can see an album of photographs of our concert day at the Bridgewater Hall here, when we played Mahler 2 in 2015.
For Orchestra members, there's a rehearsal schedule on the Members page.
You can now download the new edition of our newsletter "Orchestrate" here.
There is plenty of additional information about the Orchestra on our other web pages (see menu above) and on our Facebook group, Twitter feed - @wrexhamorch and Facebook page. If you want to contact the Orchestra, please do so through wrexhamso@gmail.com.
Thanks for showing an interest in Wrexham Symphony Orchestra.


All pages within the domain http://www.wrexhamorch.co.uk/ are property and copyright of Wrexham Symphony Orchestra 2015-7