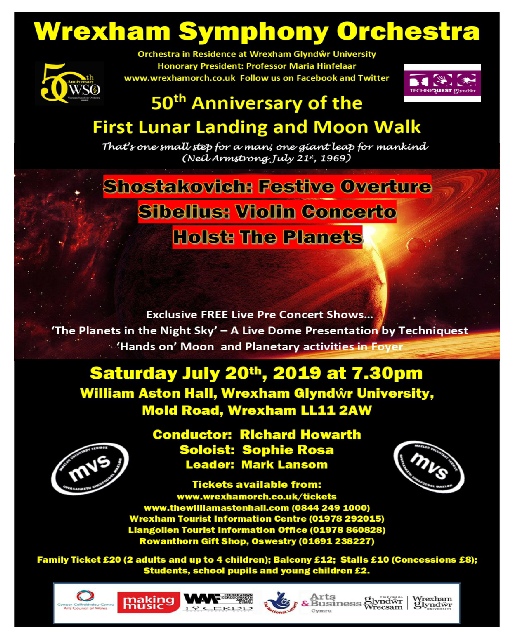 Welcome to the website for Wrexham Symphony Orchestra.
THIS SATURDAY, on July 20, as the world remembers man's first walk on the moon in July 1969, we will enjoy a full tour of Holst's Planets, and welcome Sophie Rosa who will perform the Sibelius Violin Concerto. The ever-popular Richard Howarth will again be conducting. Techniquest Glyndwr are co-hosting and there is much to do for all the family before the concert begins! You can read more about future and past performances at our Concerts page. You can also download the whole season leaflet here.
Details of our Friends of WSO Membership scheme, which guarantees your tickets and offers a 25% reduction on standard prices for next season can be obtained by sending an email to wrexhamso@gmail.com. Our scheme offers additional benefits. Full details can be found on the Friends page of this website.
On 20 June 2020 we are returning to the Bridgewater Hall, Manchester, to perform Mahler's Eighth symphony. There are pictures of our previous concert day at the Bridgewater Hall here, when we played Mahler 2 in 2015.
If you would like to donate towards the work the orchestra does or support it in any way please use the PayPal button below. A big thanks to those of you who have already done so.
For Orchestra members, there's a rehearsal schedule on the Members page.
WSO has also been active away from the main stage. With proceeds from the Mahler concerts, members have been active with projects in with residents of Pendine Park. WSO also helped run the recent Wrexham Music Festival, in which many young people performed. You can read much more about these in our magazine "Orchestrate". Back issues are readable through our Links page and you can now download the new edition here.
There is plenty of additional information about the Orchestra on our other web pages (see menu above) and on our Facebook group, Twitter feed - @wrexhamorch and Facebook page. If you want to contact the Orchestra, please do so through wrexhamso@gmail.com.
Thanks for showing an interest in Wrexham Symphony Orchestra.
All pages within the domain http://www.wrexhamorch.co.uk/ are property and copyright of Wrexham Symphony Orchestra 2015-19