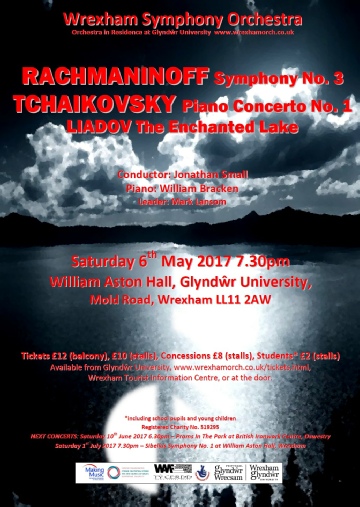 Welcome to Wrexham Symphony Orchestra's website.
We hope to see you on May 6th for our next concert, for which preparations are excitingly nearing completion. It's a programme of Russian music conducted by Jonathan Small (principal oboe of the Royal Liverpool Philharmonic Orchestra) and exciting young pianist William Bracken. Just a year and a half ago William thrilled us with a sparkling performance of Prokofiev's first concerto, and a spellbinding encore. His performance here of Tchaikovsky's first concerto will be placed alongside Rachmaninoff's sumptuous third symphony, and a rare opportunity to hear an impressionist opener by the lesser known Liadov. More details can be found on our Concerts page here, along with what will eventually become a comprehensive list of previous concerts. You can also download a copy of our poster here.
We are aware that we ran out of programmes at our last concert in February so are presenting it here as a download. If you enjoy this feature you can voluntarily make a donation to the orchestra via the PayPal button below. We of course open its use freely to anyone who wishes to make a general donation.
You can download our 2016/17 season leaflet here, and dates for the 2017/18 series are now on our concerts page.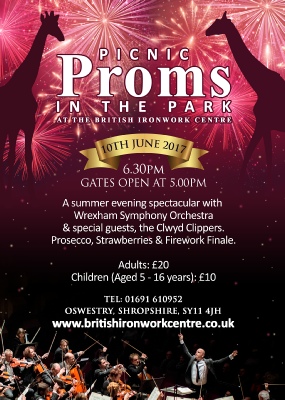 Coming soon, on Saturday June 10th 2017, the Orchestra will be headlining a Picnic Proms in the Park concert at the British Ironwork Centre, near Oswestry.
This promises to be a fabulous evening with popular classical pieces, film music and Last Night of the Proms favourites. You can bring your own picnic and prosecco and strawberries will be on sale.The Clwyd Clippers will be supporting and also joining in the Proms singalong, and the amazing virtuoso violinist Lily Whitehurst joins the orchestra for two special numbers. The event will be compered and conducted by the ever popular Richard Howarth. The evening will end with an exciting firework display!
Tickets for this special concert cost just £20 and £10 and will be available for purchase at our May concert. They can also be bought online here.
Many thanks to the British Ironwork Centre from all at Wrexham Symphony Orchestra in advance for bringing this exciting project to fruition.
We are extremely proud to announce a return to Manchester's Bridgewater Hall on Saturday May 5th 2018, to play the Eighth Symphony, the "Symphony of a Thousand"!
The Orchestra have now also performed the first seven Mahler symphonies, with only this and the ninth to go. Our Mahler concert series is generously sponsored by Betrinac, with all profit from these concerts going to dementia charities. The amount raised so far is well into five figures, and most recently a cheque for £3,000 was donated to the Wrexham and Flintshire Memory Services at Wrexham Maelor Hospital.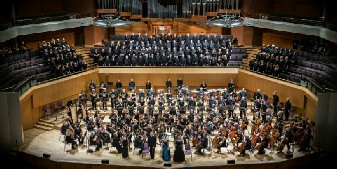 This resulted in the Orchestra being shortlisted for an Arts & Business Cymru Award in 2016. When tickets are available (to be combined with coaches from Wrexham if required) we will let you know. You can see an album of photographs of our concert day at the Bridgewater Hall here, when we played Mahler 2 in 2015.
For Orchestra members, there's a rehearsal schedule on the Members page.
You can now download the new edition of our newsletter "Orchestrate" here.
There is plenty of additional information about the Orchestra on our other web pages (see menu above) and on our Facebook group, Twitter feed - @wrexhamorch and Facebook page. If you want to contact the Orchestra, please do so through wrexhamso@gmail.com.
Thanks for showing an interest in Wrexham Symphony Orchestra.


All pages within the domain http://www.wrexhamorch.co.uk/ are property and copyright of Wrexham Symphony Orchestra 2015-7