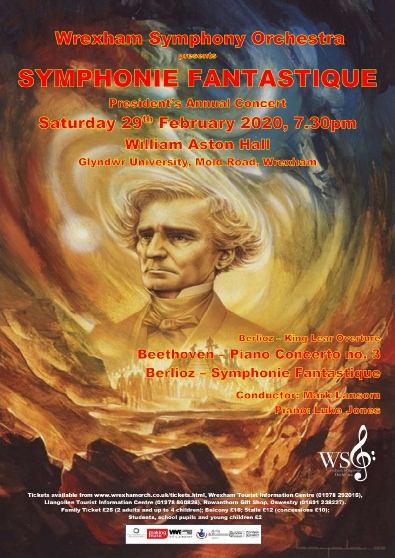 Welcome to the website for Wrexham Symphony Orchestra. Our fifty first season is well under way now and we have thoroughly enjoyed putting on our first two concerts.
Most recently, a very full house enjoyed the "Family Picture Book" concert, which showcased a selection of orchestral favourites based on books and imagery through music. It featured Benjamin Britten's famous "Young Person's Guide to the Orchestra", Mendelssohn's Hebrides Overture and Tchaikovsky's "Capriccio Italien", with highlights from the musical "Chicago" and a rousing finale from the Harry Potter films, portraying one of the most successful book series in the history of children's literature.
In contrast we look forward to a programme more distant in musical history than our average! On February 29th, the "President's Annual Concert", we play two works by the visionary French composer Hector Berlioz, including his masterpiece "Symphonie Fantastique". In the 250th anniversary year of Beethoven's birth we perform his awe-inspiring third Piano Concerto, sharing the platform with Wrexham's own Luke Jones, who is making a big name for himself in world piano competitions. Our own Mark Lansom again conducts.
Looking ahead to the rest of the season, surely the highlight of this will be our return to the Bridgewater Hall, Manchester, to perform Mahler's Eighth symphony on 20 June 2020. There are pictures of our previous concert day at the Bridgewater Hall here, when we played Mahler 2 in 2015 to whet your appetite! You can read more about future and past performances at our Concerts page.
Details of our Friends of WSO Membership scheme, which guarantees your tickets and offers a large reduction on standard prices for next season at the William Aston Hall, can be obtained by sending an email to wrexhamso@gmail.com. Our scheme offers additional benefits. Full details can be found on the Friends page of this website.
If you would like to donate towards the work the orchestra does or support it in any way please use the PayPal button below. A big thanks to those of you who have already done so.
For Orchestra members, there's a rehearsal schedule on the Members page.
WSO has also been active away from the main stage. With proceeds from the Mahler concerts, members have been active with projects in with residents of Pendine Park. WSO also helped run the recent Wrexham Music Festival, in which many young people performed. You can read much more about these in our magazine "Orchestrate". Back issues are readable through our Links page and you can now download the new edition here.
There is plenty of additional information about the Orchestra on our other web pages (see menu above) and on our Facebook group, Twitter feed - @wrexhamorch and Facebook page. If you want to contact the Orchestra, please do so through wrexhamso@gmail.com.
Thanks for showing an interest in Wrexham Symphony Orchestra.
All pages within the domain http://www.wrexhamorch.co.uk/ are property and copyright of Wrexham Symphony Orchestra 2015-19