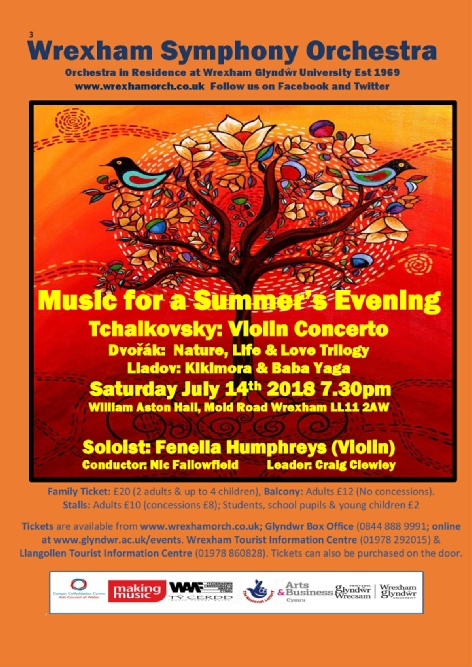 Welcome to the website for Wrexham Symphony Orchestra.
Thank you for your fine support for our recent performance of Mahler's Ninth Symphony. We hope our love for this music came across! We were all sat down on chairs but only used the edges. As has been the case with all the Mahler series, due to the tremendous support of Cobalz Ltd. all profits from the concert are going to dementia charities. The amount raised so far is well into five figures, and most recently a cheque for £3,000 was donated to the Wrexham and Flintshire Memory Services at Wrexham Maelor Hospital. This resulted in the Orchestra being shortlisted for an Arts & Business Cymru Award in 2016. You can see an album of photographs of our concert day at the Bridgewater Hall here, when we played Mahler 2 in 2015.
Next up is a return to the podium for the ever-popular Nic Fallowfield. He will be conducting works by Dvorak and Liadov as well as Tchaikovsky's Violin Concerto, played by Fenella Humphreys who recently won the BBC Music Magazine 2018 Instrumental Award for her CD of Bach with commissioned companion pieces.
You can find details on our Concerts page here, along with what will eventually become a comprehensive list of previous concerts. You can also download the season leaflet here.
If you would like to donate towards the work the orchestra does or support it in any way please use the PayPal button below. A big thanks to those of you who have already done so.
For Orchestra members, there's a rehearsal schedule on the Members page.
You can now download the new edition of our newsletter "Orchestrate" here.
There is plenty of additional information about the Orchestra on our other web pages (see menu above) and on our Facebook group, Twitter feed - @wrexhamorch and Facebook page. If you want to contact the Orchestra, please do so through wrexhamso@gmail.com.
Thanks for showing an interest in Wrexham Symphony Orchestra.
All pages within the domain http://www.wrexhamorch.co.uk/ are property and copyright of Wrexham Symphony Orchestra 2015-18