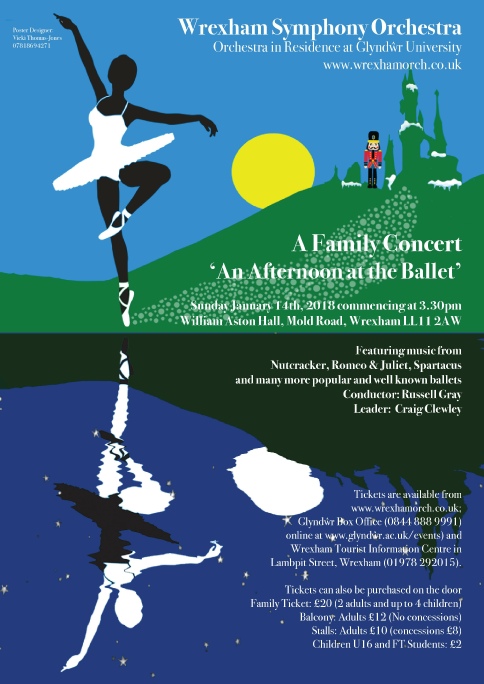 Welcome to the website for Wrexham Symphony Orchestra. Thank you for your amazing support for our film concert "Classics at the Movies". It was great to see so many people there and it will stay long in our memories! Thanks also to our amazing father and son soloist team, Achille and Luke Jones.
The conductor for the film music concert, Mark Lansom, moves downstairs to the viola section for our next concert and we welcome back the prominent brass band conductor Russell Gray to the podium for our next two performances, "An Afternoon at the Ballet" and "A Night at the Opera" in January and February 2018. You can download a PDF of the Ballet concert poster here. The opera concert is a celebration of both Glyndŵr University's tenth anniversary and our own twentieth anniversary as symphony orchestra in residence.
As you will read below, this is followed by one of our most ambitious undertakings to date, the momentous ninth symphony of Gustav Mahler. You can find details on our Concerts page here, along with what will eventually become a comprehensive list of previous concerts. You can also download the season leaflet here.
If you would like to donate towards the work the orchestra does or support it in any way please use the PayPal button below. A big thanks to those of you who have already done so.
Our Mahler series if nearly complete now, and we will be performing his Earth-shattering Ninth symphony at the William Aston Hall on May 19th 2018. The series will be completed with a return to the Bridgewater Hall in May 2020 to play the Eighth Symphony,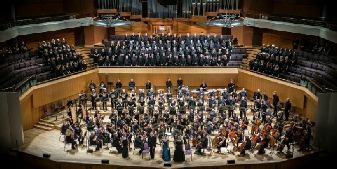 "Symphony Of A Thousand". Our Mahler concert series has been generously sponsored by Cobalz, with all profit from these concerts going to dementia charities. The amount raised so far is well into five figures, and most recently a cheque for £3,000 was donated to the Wrexham and Flintshire Memory Services at Wrexham Maelor Hospital. This resulted in the Orchestra being shortlisted for an Arts & Business Cymru Award in 2016. You can see an album of photographs of our concert day at the Bridgewater Hall here, when we played Mahler 2 in 2015.
For Orchestra members, there's a rehearsal schedule on the Members page.
You can now download the new edition of our newsletter "Orchestrate" here.
There is plenty of additional information about the Orchestra on our other web pages (see menu above) and on our Facebook group, Twitter feed - @wrexhamorch and Facebook page. If you want to contact the Orchestra, please do so through wrexhamso@gmail.com.
Thanks for showing an interest in Wrexham Symphony Orchestra.


All pages within the domain http://www.wrexhamorch.co.uk/ are property and copyright of Wrexham Symphony Orchestra 2015-7