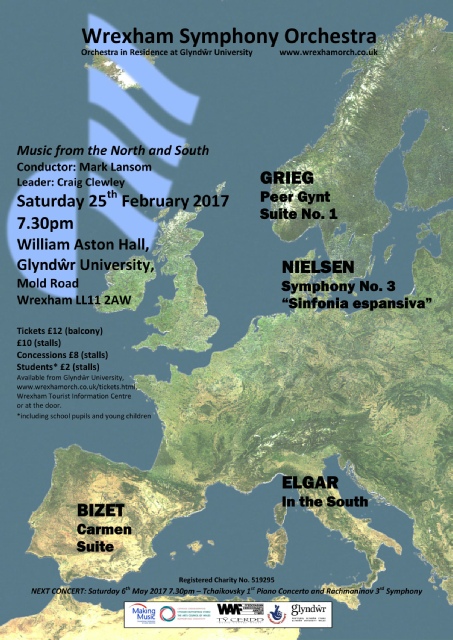 Welcome to Wrexham Symphony Orchestra's website.
The Orchestra, now in its forty eighth season, is hard at work on its next programme, "Music from the North and South". This concert, on Saturday 25th February 2017, pairs two works by the Scandinavian composers Grieg and Nielsen with pieces set in or inspired by southern Europe. Please note that the performance of a suite from Bizet's "Carmen" is a change to the earlier advertised programme. More details can be found on our Concerts page here, along with what will eventually become a comprehensive list of previous concerts. You can also download a copy of our poster here.
Later this season, on Saturday June 10th 2017, the Orchestra will be headlining a Picnic Proms in the Park concert at the British Ironwork Centre, near Oswestry. This promises to be a fabulous evening with popular classical pieces, film music and Last Night of the Proms favourites. Tickets for this special concert will be available for purchase during our February and May concerts and can also be bought online at www.britishironworkcentre.co.uk.
You can download our 2016/17 season leaflet here, and dates for the 2017/18 series are now on our concerts page.
We are extremely proud to announce a return to Manchester's Bridgewater Hall on Saturday May 5th 2018, to play the Eighth Symphony, the "Symphony of a Thousand"!
The Orchestra have now also performed the first seven Mahler symphonies, with only this and the ninth to go. Our Mahler concert series is generously sponsored by Betrinac, with all profit from these concerts going to dementia charities. The amount raised so far is well into five figures, and most recently a cheque for £3,000 was donated to the Wrexham and Flintshire Memory Services at Wrexham Maelor Hospital.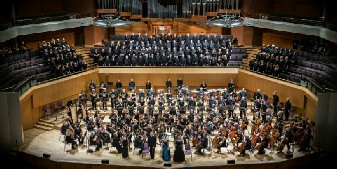 This resulted in the Orchestra being shortlisted for an Arts & Business Cymru Award in 2016. When tickets are available (to be combined with coaches from Wrexham if required) we will let you know. You can see an album of photographs of our concert day at the Bridgewater Hall here, when we played Mahler 2 in 2015.
For Orchestra members, there's a rehearsal schedule on the Members page.
You can now download the new edition of our newsletter "Orchestrate" here.
There is plenty of additional information about the Orchestra on our other web pages (see menu above) and on our Facebook group, Twitter feed - @wrexhamorch and Facebook page. If you want to contact the Orchestra, please do so through wrexhamso@gmail.com.
Thanks for showing an interest in Wrexham Symphony Orchestra.


All pages within the domain http://www.wrexhamorch.co.uk/ are property and copyright of Wrexham Symphony Orchestra 2015-7