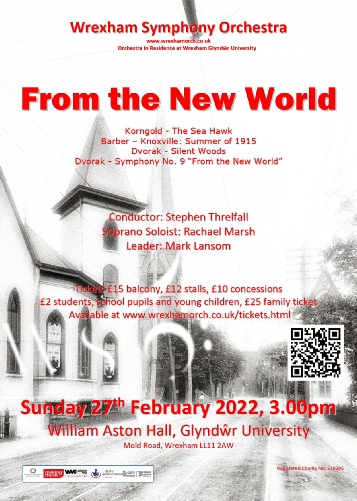 Welcome to the website for Wrexham Symphony Orchestra.
Thank you so much for your support for our recent Christmas concert. It was exciting beyond belief to perform live again and to such an enthusiastic audience!
We have already started rehearsing for our next performance, in which we welcome back Stephen Threlfall to the podium and a quick return for Rachael Marsh as soloist. When tickets go live you will be able to book them at our Tickets page.
Audience safety is still our prime concern, and we urge you to read through our Covid guidelines before booking seats. We strive to meet Welsh guidelines and beyond for your safety, and respect the fact that guidelines may still change between now and the performance.
WSO has a direct link with the university, and as such is unaffected by any of the issues you may have read about concerning the company that until recently ran events at the hall.
You can read more about future and past performances at our Concerts page.
If you would like to donate towards the work the orchestra does or support it in any way please use the PayPal button below. A big thanks to those of you who have already done so.
For Orchestra members, there is a rehearsal schedule on the Members page.
There is plenty of additional information about the Orchestra within this website and on our Facebook group, Twitter feed - @wrexhamorch and Facebook page. If you want to contact the Orchestra, please do so through wrexhamso@gmail.com.
Thanks for showing an interest in Wrexham Symphony Orchestra.
All pages within the domain http://www.wrexhamorch.co.uk/ are property and copyright of Wrexham Symphony Orchestra 2015-21